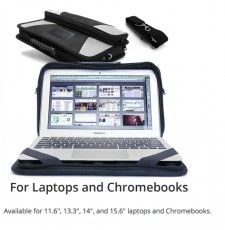 In our technical age, more and more people are working from home. Sunrise Hitek offers a wide variety of products that protect laptops and tablets https://www.sunrisehitek.com/category/hitek-accessories.
Chicago, IL, December 1, 2016 (Newswire.com) - Working from home has been steadily on the rise over the past decade. A 2013 Forbes article stated that 1 in 5 Americans work from home, and rising. Click here for full article. The article goes on to say: "An estimated three million American professionals never step a foot in an office outside of their own home and another 54% say they are happier that way". It looks like working from home is the future for a lot of industries.
Many workers work predominately from home, or split their time between the home and the office. This often adds a lot of wear and tear to laptops and tablets that are constantly being commuted from one location to the other. Sunrise Hitek offers rugged tablet cases, a rugged laptop bag, and even a backpack! Sunrise designed many of these products with students and business professionals in mind so they are built to last.
Sunrise Hitek's Premium Padded Backpack is made with top quality ballistic nylon with dedicated laptop compartment, tons of convenient and thoughtful storage. Curved main zipper provides a straight path for effortless laptop removal, and unprecedented easy access with super wide opening. Compatible with MacBook Air 11" & 13", MacBook Pro 13" & 15.4" Retina Display, and other laptops up to 15.4" https://www.sunrisehitek.com/product/backpack.
Their iPad G6 Slim Tough Case offers the most rugged protection for iPad. Its features include a dual-layer rugged design – protective silicone skin over inner hard case and a built-in scratch-resistant screen protector. Available for the iPad Air 2 and Pro 9.7 (same case works with both iPad models) https://www.sunrisehitek.com/product/ipad-slim-tough-case-g6
Sunrise's Rugged Laptop Case boasts an always-in design allowing the laptop to be used without removing it from the case. Cooling Channel technology keeps computer cool. Rugged protection for 11", 13", 14", and 15" laptops, Chromebooks including Apple MacBook, Dell, HP, Lenovo, Asus, Toshiba, and others. https://www.sunrisehitek.com/product/rugged-laptop-case
About Sunrise Hitek
Sunrise Hitek's "Hitek" store, is a leading maker of protective gear for Apple's iPad. The brand changed to üuber when the company starting developing cases for other devices, such as the MacBook, Chromebook, and Samsung devices. Sunrise Hitek Group, LLC, owner of the üuber brand, also operates Sunrise Digital, a leading digital printing company based in Chicago. As a G7 Qualified Master Printer, Sunrise is uniquely qualified among protective gear makers to offer a wide array of customization options, ensuring the most consistent and accurate color reproduction. Sunrise is an Inc. 5000 company established in 1988 and employs the most advanced equipment and technology, such as G7-certified HP Indigo and UV flatbed presses, and digital die-cutting, to create best-in-class products. A privately-owned enterprise, the company is based in Chicago and sells products worldwide.
Source: Sunrise Hitek Group, LLC