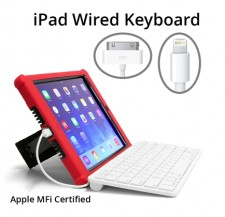 External keyboards take the iPad from a useful device, to a serious writing tool, making the keyboards essential for schools. Sunrise Hitek's wired keyboard was made with schools in mind https://www.sunrisehitek.com/product/ipad-wired-keyboard-apple-mfi-certified.
Chicago, IL, July 27, 2016 (Newswire.com) - Sunrise Hitek's wired keyboard takes school iPad usage to the next level. When paired with an external keyboard like Sunrise's, the iPad becomes a serious writing tool. According to ipad.appstorm.net, there are definitely added benefits to using an external keyboard for iPad. They state:  "...Paired with an external keyboard, though, the iPad is an even better writing machine. Just like serious artists may want to invest in stylus for iPad painting, if you're regularly writing hundreds of words on your iPad, it might be time for a real keyboard. You can still type on-screen when you want, but for longer pieces, the keyboard will help you type your fastest."
The wired keyboard from Sunrise Hitek is an asset to any classroom or office. Buyers can choose a model compatible with all iOS devices with 8-pin Lightning port, including the iPad Air, Air 2, Mini, Mini with Retina, Mini 3, iPhone 5/5S/5C, 6, 6 Plus, or the 30-pin dock connector, compatible with including iPad 1/2/3/4, iPhone 3/4/4S, iPod Touch https://www.sunrisehitek.com/product/ipad-wired-keyboard. Overall the wired keyboards have been a huge hit with schools. Sunrise has received a lot of positive feedback such as this: I am happy to offer great feedback on the [iPad wired] keyboards.  We ordered only 6 to have a classroom trail test the keyboards on the iPad minis that that classroom has.  I was able to set up the iPads with Microsoft Word and set up printing from the iPad to a network printer.  Our teachers are interested in getting more keyboards. ~ Ray W., Charenton, LA
About Sunrise Hitek
Sunrise Hitek's üuber store, formerly known as iGear, is a leading maker of protective gear for Apple's iPad. The brand changed to üuber when the company starting developing cases for other devices, such as the MacBook, Chromebook, and Samsung devices. Sunrise Hitek Group, LLC, owner of the üuber brand, also operates Sunrise Digital, a leading digital printing company based in Chicago. As a G7 Qualified Master Printer, Sunrise is uniquely qualified among protective gear makers to offer a wide array of customization options, ensuring the most consistent and accurate color reproduction. Sunrise is an Inc. 5000 company established in 1988 and employs the most advanced equipment and technology, such as G7-certified HP Indigo and UV flatbed presses, and digital die-cutting, to create best-in-class products. A privately-owned enterprise, the company is based in Chicago and sells products worldwide.
Source: Sunrise Hitek Group, LLC