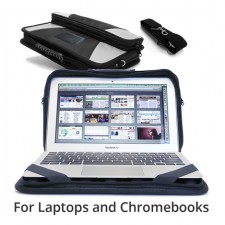 Sunrise Hitek's Rugged laptop Case offers a variety of features that help protect the laptop long-term. The main protective feature is the always-in design with cooling technology https://www.sunrisehitek.com/product/rugged-laptop-case.
Chicago, IL, August 24, 2016 (Newswire.com) - Technology items such as tablets and laptops are becoming more and more prevalent in schools. While they are great classroom tools, they are also a large expense, and it makes sense
for schools to do all they can to prevent breakage. According to a Huffington Post article, kid's damage to electronic devices have cost families 2.8 billion in 5 years, and that was back in 2013! The article goes on to discuss the importance of cases for these products: "backpacks are particularly unforgiving to tablets. Screens often get crushed by books, or the corners get dinged when a bag is dropped or stepped on" http://www.huffingtonpost.com/2013/09/03/electronic-devices-damaged-by-kids_n_3862321.html.
Sunrise Hitek's Rugged Laptop Case offers the ultimate in laptop protection. The rugged laptop case is made of durable ballistic nylon on a rigid frame. Its "always-in" design with proprietary Cooling Channel™ technology allows the computer to be used without being removed from the case https://www.sunrisehitek.com/product/rugged-laptop-case. The "always-in" design is so special because it enables the laptop to stay in the case at all times, preventing a myriad of damages that could potentially occur such as dropping or cracking of the screen. Sunrise has received many testimonials to the quality of the case including this one: Received Chromebook cases. They were just as described. A good product & we were very satisfied with our experience & would recommend you to others.
~ John M., Crown Point, IN
About Sunrise Hitek
Sunrise Hitek's üuber store, formerly known as iGear, is a leading maker of protective gear for Apple's iPad. The brand changed to üuber when the company starting developing cases for other devices, such as the MacBook, Chromebook, and Samsung devices. Sunrise Hitek Group, LLC, owner of the üuber brand, also operates Sunrise Digital, a leading digital printing company based in Chicago. As a G7 Qualified Master Printer, Sunrise is uniquely qualified among protective gear makers to offer a wide array of customization options, ensuring the most consistent and accurate color reproduction. Sunrise is an Inc. 5000 company established in 1988 and employs the most advanced equipment and technology, such as G7-certified HP Indigo and UV flatbed presses, and digital die-cutting, to create best-in-class products. A privately-owned enterprise, the company is based in Chicago and sells products worldwide.
Source: Sunrise Hitek Group, LLC