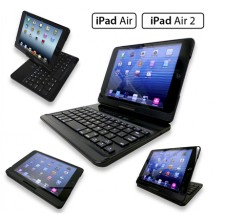 The iPad has proven to be a great hand-on asset in the workplace. Sunrise Hitek's Flip Turn Case takes it to the next level with a full keyboard and 360° viewing angles https://www.sunrisehitek.com/product/ipad-flip-turn.
Chicago, IL, August 10, 2016 (Newswire.com) - iPad has quickly become a staple device in businesses everywhere. It's compact size and mobility make it a great fit for small businesses as well as sales personnel working from home or on the road. Popular entertainment and media website Mashable, in an article entitled 5 Ways to Take Advantage of the iPad for Business outlines the many benefits of iPad in the workplace noting among the highlights payment processing, as a presentation tool, as well as inventory and data collection http://mashable.com/2011/07/20/ipad-business/#W1xE4owNKEqJ. When you add the versatile iPad Flip Turn Case from Sunrise Hitek, it becomes an even better tool.
The iPad Flip Turn Case is a hard shell case that offers full body protection, a built-in wireless keyboard, and our exclusive Flip Turn mechanism to transform the iPad between three modes - laptop, presentation, and tablet. This 360° angle feature makes this case stand out from the rest https://www.sunrisehitek.com/product/ipad-flip-turn.  Customers love the backlit keys and swivel action features, as shown in the following testimonial: "I really like [the Flip Turn Case]. There is no other flip case with backlit keys on the market (Zagg, Targus, etc.) so I was excited to find one.  The swivel hinge is secure but not too tight, spins easily without too much tension. ... the product is exactly what I was looking for. Very happy with it!"  ~ Katherine S., Simi Valley, CA
About Sunrise Hitek
Sunrise Hitek's üuber store, formerly known as iGear, is a leading maker of protective gear for Apple's iPad. The brand changed to üuber when the company starting developing cases for other devices, such as the MacBook, Chromebook, and Samsung devices. Sunrise Hitek Group, LLC, owner of the üuber brand, also operates Sunrise Digital, a leading digital printing company based in Chicago. As a G7 Qualified Master Printer, Sunrise is uniquely qualified among protective gear makers to offer a wide array of customization options, ensuring the most consistent and accurate color reproduction. Sunrise is an Inc. 5000 company established in 1988 and employs the most advanced equipment and technology, such as G7-certified HP Indigo and UV flatbed presses, and digital die-cutting, to create best-in-class products. A privately-owned enterprise, the company is based in Chicago and sells products worldwide.
Source: Sunrise Hitek Group, LLC