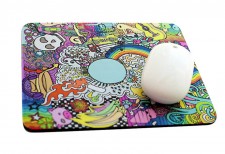 Mousepads from Sunrise Hitek can be fully customized. They can print a standard circle or square mouse pad, as well as a fully customized, die-cut shape https://www.sunrisehitek.com/product/mousepads.
Chicago, IL, November 29, 2016 (Newswire.com) - Marketing budgets often need to be stretched a long way, especially for small businesses. When it comes to time and money spent on swag for clients, it is integral that it be meaningful and memorable; not something that will be quickly tossed into the garbage. How many times do people get "swag bags" and immediately toss the majority of the contents into the garbage?
The trick to the perfect giveaway if practical functionality and frequent usage. A little creativity doesn't hurt either. Everyone likes free gifts, and if the gift is something that is frequently used, it is destined to leave a positive impression of the giver. Incorporating a personalized aspect is also a great touch, such as a company's logo, or something in relation to the company. For example, maybe a cosmetics company would have a lip shaped mouse pad, or a tool company would have a toolbox shaped 3D USB.
Custom mouse pads from Sunrise Hitek are a perfect leave behind. Everyone uses a mouse pad at least sometimes, if not everyday. While a circle or square shape is definitely doable, Sunrise can also print custom shapes. Shapes can be employed to drive home a brand, such as a Hellmann's Mayonnaise jar for Unilever brands, or a truck for a delivery company.
Sunrise uses a sponge rubber with white cloth top for their  mouse pads which offers super gripping power and a smooth rolling surface https://www.sunrisehitek.com/product/mousepads. High-resolution, full color graphics show off any company logo or message clearly and beautifully. Direct UV printing ink never fades, chip, or run when wet meaning these are a gift that will last for years. Customers can choose from a selection of standard sizes, or a fully custom die-cut shape.
About Sunrise Hitek Group, LLC.
Sunrise Hitek https://www.sunrisehitek.com/ is an Inc. 5000 company established in 1988 and employs the most advanced equipment and technology, such as G7-certified HP Indigo and UV flatbed presses, laser engraving, and digital die-cutting, to create best-in-class color printing, short-run packaging, P.O.P. retail displays, and signage products. A privately-owned enterprise, the company is based in Chicago and sells products worldwide.
Source: Sunrise Hitek Group, LLC