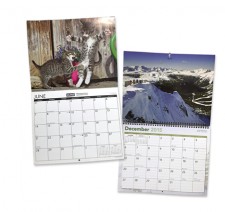 Sunrise Hitek's Holiday Gift Guide is Here! Sunrise Hitek has a wide variety of customizable items that make perfect corporate gifts https://www.sunrisehitek.com/.
Chicago, IL, November 22, 2016 (Newswire.com) - The holidays are a really busy time, and an important time for businesses to show their customers their appreciation. Corporate gifts can be overwhelming for both the giver and receiver. Sunrise Hitek has it covered with a wide variety of fully customizable gifts, perfect for the individual, or corporate gifting.
What better way to celebrate the approach of a new year than with custom calendars? Custom Calendars from your images. Full color printing with standard turnaround of 7 days from design to ship. Minimum order quantity is 200 https://www.sunrisehitek.com/product/custom-calendar.
For an unforgettable gift, try Sunrise's custom molded 3D USB Drives. Custom 3D USB drives are one of the best leave-behind gifts! These miniature products look so cute and are also very functional. Your clients will never throw something like this away – making it truly a gift that keeps on giving https://www.sunrisehitek.com/product/custom-3d-usb-drive.
Acrylic coasters are another great custom piece. These beautiful personalized coasters have a high-gloss finish, are beautifully printed with any logo artwork or message, and are sure to be treasured by clients for years to come. Coasters can be cut to virtually any size per design. Many other materials are available to choose from https://www.sunrisehitek.com/product/coasters.
Another useful corporate gift is the customizable Power Bank 5000. Using the same type of high-density lithium-ion polymer battery as Apple's iPhone, this USB battery pack is compatible with all USB powered devices on the market, including Apple, Samsung, LG, HTC, Sony, Motorola, and more. SMART circuitry communicates with your device and provides optimal charging https://www.sunrisehitek.com/product/usb-power-bank.
About Sunrise Hitek
Sunrise Hitek's "Hitek" store, is a leading maker of protective gear for Apple's iPad. The brand changed to üuber when the company starting developing cases for other devices, such as the MacBook, Chromebook, and Samsung devices. Sunrise Hitek Group, LLC, owner of the üuber brand, also operates Sunrise Digital, a leading digital printing company based in Chicago. As a G7 Qualified Master Printer, Sunrise is uniquely qualified among protective gear makers to offer a wide array of customization options, ensuring the most consistent and accurate color reproduction. Sunrise is an Inc. 5000 company established in 1988 and employs the most advanced equipment and technology, such as G7-certified HP Indigo and UV flatbed presses, and digital die-cutting, to create best-in-class products. A privately-owned enterprise, the company is based in Chicago and sells products worldwide.
Source: Sunrise Hitek Group, LLC