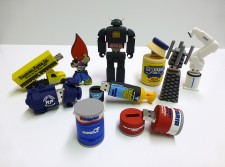 Corporate gifting is oftentimes a chore. Sunrise Hitek's custom 3D molded USB drives are both memorable and practical https://www.sunrisehitek.com/product/custom-3d-usb-drive.
Chicago, IL, November 3, 2016 (Newswire.com) - Holiday gifting can turn into a chore for businesses large and small. Oftentimes gifts sit in the break room uneaten, or get dusty on desks. Sunrise; Hitek's custom 3D molded USB's are one-of-a-kind, literally. Sunrise Hitek's custom shaped 3D USB Drive https://www.sunrisehitek.com/product/custom-3d-usb-drive offers something few other products can rival – it impresses the most demanding client, and is guaranteed to put a smile on their face. It's made as a 3-dimensional miniature product, whether it's car, a bottle of wine, or a jar of mayonnaise, complete with the shape, color, and even the texture, of the original product. The USB chip and connector is cleverly hidden inside the product, and in most cases are designed to encourage user interaction.
"The Custom Shaped USB Drive mimics the shape, color, and texture of any product, and works just like a normal USB flash drive." says Jimmy Sun, the president of Sunrise Digital. "It will be treasured by customers and is truly a gift that keeps on giving."
The drive can be made with a wide variety of materials, including PVC, ABS plastic, wood, bamboo, metal, etc., to closely reassemble the original product. By simply supplying a few photos to Sunrise Hitek, customers can take advantage of a turnkey solution that includes 3D modeling, custom tooling, production, and fast shipping. Sunrise Hitek's turnaround time is among the fastest in the industry for such custom projects, often taking just three to four weeks from start to finish.
Sunrise Hitek takes the chore out of corporate gift giving with their fun, custom shaped USB drives. Not only are these custom drives a memorable gift, they are also quite practical since everyone uses USB drives. These product and logo miniatures are head-and-shoulders above the traditional leave-behinds, guaranteed to be a conversation starter, and work as a great marketing tool to help businesses attract, impress, and retain clients.
About Sunrise Hitek
Sunrise Hitek's "Hitek" store, is a leading maker of protective gear for Apple's iPad. The brand changed to üuber when the company starting developing cases for other devices, such as the MacBook, Chromebook, and Samsung devices. Sunrise Hitek Group, LLC, owner of the üuber brand, also operates Sunrise Digital, a leading digital printing company based in Chicago. As a G7 Qualified Master Printer, Sunrise is uniquely qualified among protective gear makers to offer a wide array of customization options, ensuring the most consistent and accurate color reproduction. Sunrise is an Inc. 5000 company established in 1988 and employs the most advanced equipment and technology, such as G7-certified HP Indigo and UV flatbed presses, and digital die-cutting, to create best-in-class products. A privately-owned enterprise, the company is based in Chicago and sells products worldwide.
Source: Sunrise Hitek Group, LLC