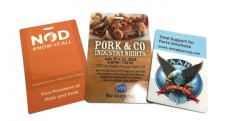 Chicago-based digital printer Sunrise Hitek is pleased to be selected as a vendor for the printing of credentials for the 2016 Democratic National Convention. Established in 1988, Sunrise Hitek offers a wide variety of printing capabilities, ranging from small to grand format printing, digital die-cutting, coating, to mailing and fulfillment https://www.sunrisehitek.com/page/choose-store.
Chicago, IL, May 11, 2016 (Newswire.com) - This week the Democratic National Convention Committee (DNCC) announced the organizations they would partner with to print the credentials for their 2016 convention. The DNCC badges require the unique capability of printing opaque white ink on a tough, scratch-resistant clear film, personalized with a barcode, and precision die-cut to shape. Sunrise Hitek, an FSC certified printer, (a certification that centers on environmental responsibility and sustainability), a G7 Qualified Master Printer, and a certified Asian-American Pacific Islander (AAPI) certified Minority Business Enterprise, were chosen as one of their partners. "Sunrise Hitek is honored to participate in this project, and excited about the opportunity to support the Democratic National Convention. We look forward to a successful event and a great election for our nation," said Jimmy Sun, Owner of the Sunrise Hitek Group.
Sunrise Hitek has been providing digital printing services since 1988. Over the years they have expanded from serving the Chicagoland area to serving on a national level. Sunrise's services have also expanded greatly over the years. They offer standard digital printing capabilities such as postcards, envelopes, booklets, labels, metal invitations, variable-data printing, and of course press passes and badges https://www.sunrisehitek.com/product/vip-membership-credit-cards. Sunrise has also branched out to large format and offer a wide variety of printing options from posters, event graphics, directional signage, clings and window graphics, assorted trade show display solutions, https://www.sunrisehitek.com/category/display-graphics/2, and unique wall art possibilities including acrylic, stretched canvas, and aluminum https://www.sunrisehitek.com/category/wall-art.
About Sunrise Hitek Group, LLC.
Sunrise Hitek https://www.sunrisehitek.com/ is an Inc. 5000 company established in 1988 and employs the most advanced equipment and technology, such as G7-certified HP Indigo and UV flatbed presses, laser engraving, and digital die-cutting, to create best-in-class color printing, short-run packaging, P.O.P. retail displays, and signage products. A privately-owned enterprise, the company is based in Chicago and sells products worldwide.
Source: Sunrise Hitek Group, LLC