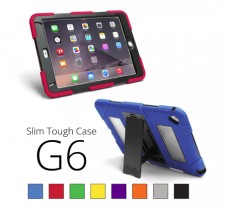 Sunrise Hitek debuts new sixth generation slim tough case for iPad Air 2 and iPad Pro. This case will be available to purchase in February 2017. www.sunrisehitek.com/product/ipad-slim-tough-case-g6
Chicago, IL, December 7, 2016 (Newswire.com) - ​​Every new generation of iPad has its share of upgrades and improvements. With these improvements usually comes a higher price tag. One of the more notable price hikes is the hefty cost of the new iPad Pro. In short, an iPad is an investment piece that is worthwhile protecting as much as possible.  Sunrise Hitek's rugged Slim Tough Case goes a long way to protect that investment.
A 2013 Huffpost report found that 50 percent of parents report their children have caused damage to an electronic device at some point, costing $2.8 billion over the past five years. Click here for full article. With iPads getting thinner, lighter, and pricier, protection is more important than ever. An iPad case protects iPad from drops, cracks, and screen damage. Sunrise Hitek's slim tough case is one of the most trusted cases on the market.
Sunrise Hitek's Slim Tough case is the top in iPad protection. Its highlights include a dual-layer rugged design including a protective silicone skin over an inner hard case and a naked frame for the very best touch experience, which is 100% stylus compatible. The Built-in stylus glides smoothly on the glass screen and keeps it clean. Handy magnetic closure keeps the folio cover shut when closed and the strong kickstand with stainless steel pins provides superb stability https://www.sunrisehitek.com/product/ipad-slim-tough-case-g6.
The Slim Tough Case G6 model debuting February 2017 features some notable improvements. This case sports an all new 3-piece design for unparalleled protection along with a slim profile that enables it to fit in all charging carts on the market. The G6 also boasts a built-in high-clarity screen protector as well as three accessory/expansion ports on back that can be used for kickstand, hand strap, asset tag windows, logo customization plates, and other future accessories A removable 5-position kickstand is also included.
About Sunrise Hitek
Sunrise Hitek's "Hitek" store is a leading maker of protective gear for Apple's iPad. The brand changed to üuber when the company starting developing cases for other devices, such as the MacBook, Chromebook, and Samsung devices. Sunrise Hitek Group, LLC, owner of the üuber brand, also operates Sunrise Digital, a leading digital printing company based in Chicago. As a G7 Qualified Master Printer, Sunrise is uniquely qualified among protective gear makers to offer a wide array of customization options, ensuring the most consistent and accurate color reproduction. Sunrise is an Inc. 5000 company established in 1988 and employs the most advanced equipment and technology, such as G7-certified HP Indigo and UV flatbed presses, and digital die-cutting, to create best-in-class products. A privately-owned enterprise, the company is based in Chicago and sells products worldwide.
Source: Sunrise Hitek Group, LLC