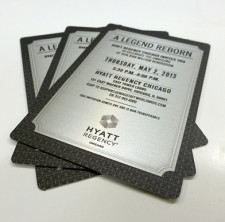 Party planning has become a multi-million dollar business. Invitations are an integral component, and Sunrise Hitek's Metal Cards and Invitations will make a lasting impression https://www.sunrisehitek.com/product/metal-cards.
Chicago, IL, October 25, 2016 (Newswire.com) - No one can argue that party planning has become a booming, multi-million dollar business. Websites like Pinterest feature thousands of highly customized invitation ideas. People are always looking for the next big thing. Sunrise Hitek's Metal Cards provide something traditional, an invitation or card, on a non-traditional substrate, shiny, silver aluminum. These cards are a definite conversation starter.
Oftentimes a traditional invitation is the best option for an event. An article on apartmenttherapy.com outlines the benefits of traditional invitations vs. digital ones. Among the benefits they list that they are more private, ship to an actual address, and have a more specialized feel than an emailed or Facebooked invite. The article goes on to say: "Style. Style. Style. Getting an elegant letterpress invitation in the mail is a world away from opening an inbox." Click here for full article.
Sunrise Hitek produces full color cards made of satin silver aluminum or brushed silver DiBond https://www.sunrisehitek.com/product/metal-cards. These metal cards are printed at high-resolution with vibrant colors, and the silver color shows through color ink for a metallic shimmer. Additional opaque white ink underlay is available for true-color logos or photos for an opaque surface, and cards can be die-cut to any shape. For a smooth finish, rounded corners are included at no additional cost.
These metal cards are truly one-of-a-kind. They are great for invitations, name badges, or VIP passes. These cards would also make an unforgettable business card or leave-behind piece. With people receiving so many items in the mail, it is more and more important to make mailed pieces especially memorable. Innovative metal cards leave a lasting impression on the recipient.
About Sunrise Hitek Group, LLC.
Sunrise Hitek https://www.sunrisehitek.com/ is an Inc. 5000 company established in 1988 and employs the most advanced equipment and technology, such as G7-certified HP Indigo and UV flatbed presses, laser engraving, and digital die-cutting, to create best-in-class color printing, short-run packaging, P.O.P. retail displays, and signage products. A privately-owned enterprise, the company is based in Chicago and sells products worldwide.
Source: Sunrise Hitek Group, LLC