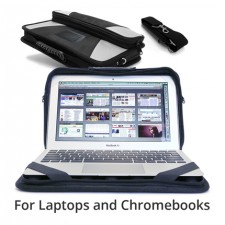 Electronics, particularly laptops and tablets, are among the top lost and damaged items that go through airport security. Sunrise Hitek's Rugged Laptop Case gives the laptop added protection as well as being an easy carry-on https://www.sunrisehitek.com/product/rugged-laptop-case.
Chicago, IL, December 14, 2016 (Newswire.com) - A Los Angeles times article surveyed items damaged at LAX airport and discovered that laptop computers are the single most damaged or lost items http://articles.latimes.com/2011/may/30/business/la-fi-travel-briefcase-20110530.
While the airport received 202 claims in a 3-year period for laptop computers alone, reimbursement in the claim is unlikely. Only about 13% of laptop claims were actually reimbursed, not such great odds.
The overall recommendation from the TSA appears to be, keep your valuables with you. The LA times interviewed TSA spokesman Nico Melendez and his advice was: "passengers who worry about losing valuable items at LAX should either pack them in a carry-on bag or leave them at home. Do not put them in your checked bags." Sunrise Hitek's Rugged Laptop bag is the perfect carry-on option. On the outside, it is a standard laptop carry bag, but on the inside it is designed for the computer to be used while still inside the laptop bag. On the plane the laptop stays protected and does not add an extra piece of baggage under the seat https://www.sunrisehitek.com/product/rugged-laptop-case.
Sunrise calls this technology their "always-in" design. This is possible because of their exclusive cooling channels that prevent overheating. The case is made from a durable ballistic nylon construction with thick padding. The case also has a handy built-in accessories pouch, carrying handle, and shoulder strap and an asset tag window for easy device identification.
In addition to MacBook Air 11" and 13", MacBook Pro 13" and 15", Sunrise also has models to accommodate HP Chromebook 11.6", 14", 15-3040NR,  the new Dell Chromebook 11 with 180-degree hinge, Latitude 13 Education Series (3340), the Inspirion 15, Acer C720 and C740, Chromebook 11, Chromebook 13, Chromebook 15, Samsung Chromebook 2, ASUS Chromebook C200, C201, and C300, Lenovo ThinkPad X140E, N20, N21, ThinkPad T440s, E550, Toshiba CB35-B3330, CB30-B3122, CB35-B3340 Chromebook,  and Tecra C50. The 11" case measures 13"x9"x3"; and weighs 1.6 lbs. The 13" case measures 14"x10"x3"; and weighs 1.8 lbs.
About Sunrise Hitek
Sunrise Hitek's "Hitek" store, is a leading maker of protective gear for Apple's iPad. The brand changed to üuber when the company starting developing cases for other devices, such as the MacBook, Chromebook, and Samsung devices. Sunrise Hitek Group, LLC, owner of the üuber brand, also operates Sunrise Digital, a leading digital printing company based in Chicago. As a G7 Qualified Master Printer, Sunrise is uniquely qualified among protective gear makers to offer a wide array of customization options, ensuring the most consistent and accurate color reproduction. Sunrise is an Inc. 5000 company established in 1988 and employs the most advanced equipment and technology, such as G7-certified HP Indigo and UV flatbed presses, and digital die-cutting, to create best-in-class products. A privately-owned enterprise, the company is based in Chicago and sells products worldwide.
Source: Sunrise Hitek Group, LLC