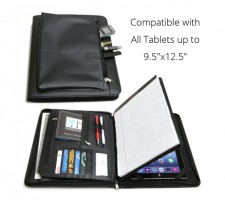 Chicago, IL, October 4, 2016 (Newswire.com) - ​​​Sunrise Hitek's Business Leather Portfolio is the perfect tool for salespeople on the go. Abundant storage keeps everything organized and ready for an impromptu sales pitch https://www.sunrisehitek.com/product/ipad-business-leather-portfolio.
Making a sale can be difficult. Many things can go wrong or an opportunity can be missed. Having all the materials needed organized and at ones immediate disposal can be the thing that enables the closure of a deal.  Sunrise Hitek's Business leather Portfolio can bring closing that deal one step closer.
According to an article on entrepreneur.com, it is integral to always be prepared to make a sales pitch. Preparation is a key step in a successful sales call, and one of those components is to have all the necessary materials needed to present. Read full article here: Sunrise Hitek's business leather portfolio was created with salespeople in mind. With the Business Leather Portfolio, keeping organized and prepared is a breeze. With designated spots for business cards, pens, papers, and of course, a tablet for impromptu PowerPoint presentations, this portfolio is a must-have https://www.sunrisehitek.com/product/ipad-business-leather-portfolio.
The Business Tablet Portfolio offers excellent protection for virtually any tablet computer, plus ample storage for business professionals on the go. It features a unique Universal Corner system which adjust to perfectly fit any size tablet. The case itself is made of high-grade leatherette, offering tough protection for day to day use. An exterior zipper pouch provides easy access for bulky items such as keys and calculators, while the expandable file folder offers plenty of storage for documents, brochures, and catalogs. A micro-fiber divider is sized perfectly for a 8.5"x11" notepad, protects the tablet's screen from scratches.
Visual presentations are key to making a sale. A picture (or video) does speak a thousand words. The 2016 model of the Business Leather Portfolio features a built-in easel-stand which allows easy demonstrations with a tablet, keeping the hands free and also maintaining a polished look https://www.sunrisehitek.com/product/ipad-business-leather-portfolio. The 2016 model also has elastic corners to keep the tablet in place when in or out of use.
About Sunrise Hitek
Sunrise Hitek's "Hitek" store, is a leading maker of protective gear for Apple's iPad. The brand changed to üuber when the company starting developing cases for other devices, such as the MacBook, Chromebook, and Samsung devices. Sunrise Hitek Group, LLC, owner of the üuber brand, also operates Sunrise Digital, a leading digital printing company based in Chicago. As a G7 Qualified Master Printer, Sunrise is uniquely qualified among protective gear makers to offer a wide array of customization options, ensuring the most consistent and accurate color reproduction. Sunrise is an Inc. 5000 company established in 1988 and employs the most advanced equipment and technology, such as G7-certified HP Indigo and UV flatbed presses, and digital die-cutting, to create best-in-class products. A privately-owned enterprise, the company is based in Chicago and sells products worldwide.
Source: Sunrise Hitek Group, LLC