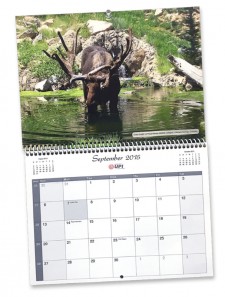 Calendars are a great giveaway in that they are not only practical, but in-use for an entire year. Sunrise Hitek offers a wide variety of fu
Chicago, IL, September 28, 2016 (Newswire.com) - It isn't too early to start placing orders for 2017 calendars. Sunrise Hitek has fully customizable calendars in a variety of options https://www.sunrisehitek.com/product/custom-calendar.
Customers can choose from staple or spiral bindery with standard 80lb gloss text and 100lb gloss cover paper. Sunrise offers a complete turn-key solution. The customer needs only to send their digital photos and they will take care of the typesetting, layout, printing, and shipping. Calendars can even be bulk-shipped or mailed to individual clients.
Calendars are a fabulous corporate giveaway. According to an article on Biznology.com,  90% of recipients use a promotional product they received at least once a week, 10% of recipients pass a promotional product on to family or friends, and 87% kept a promotional product for more than a year. Click to read full article. This means that corporate giveaways are definitely worth the investment. Considering the 90% that use the promotional product at least once a week, that means weekly others will be seeing them use the product and therefore seeing the brand on the product.
In comparison to other traditional advertising efforts, promotional items are a better investment. The aforementioned Biznology article asserts that: 4% of recipients made a purchase after viewing a print ad, 1% made a purchase after watching a television commercial, and 6% made a purchase after seeing an online ad. When comparing costs of a television ad to that of a promotional item, the promotional item is significantly less cost and also is something tangible for the potential client to see.
While it is still early now, procrastinators fear not! Sunrise Hitek's calendar turnaround is 5-7 business days for production (minimum 200 calendar order). Even faster turnaround times can be met for a premium. Ordering is as easy as uploading files on their site https://www.sunrisehitek.com/product/custom-calendar and/or email for a custom quote.
About Sunrise Hitek Group, LLC.
Sunrise Hitek https://www.sunrisehitek.com/ is an Inc. 5000 company established in 1988 and employs the most advanced equipment and technology, such as G7-certified HP Indigo and UV flatbed presses, laser engraving, and digital die-cutting, to create best-in-class color printing, short-run packaging, P.O.P. retail displays, and signage products. A privately-owned enterprise, the company is based in Chicago and sells products worldwide.
Source: Sunrise Hitek Group, LLC